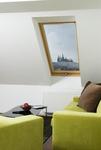 Prague is one of the most beautiful cities of Europe. The city merits to stay there more than just one or two days. If you are staying in Prague for whatever reason - tourism or business – why not to stay in a Prague serviced apartments instead of small mass tourism adjusted hotel room? As Prague merits its attention so do you, let yourself be treated as at home at Prague City Apartments luxurious residences?

What do we mean by the term serviced apartments in Prague? Serviced Apartments are a great way to book a stay at the location of your choice and enjoy luxury accommodation and space. A serviced apartment allows you greater privacy on your city break, and provides excellent value for money when compared with similar specification hotels. It is used when referring to an alternative for hotel accommodation (short and long stay, leisure and business travel). There are also some distinctions to be made between types of Prague serviced apartments. First there is the apart hotel. This type of apartment offers generally a 24-hour reception, is located in city centres, and attempts to give the guest a "home away from home" feeling, within a hotel-like environment. However, despite the slightly different overall concept, it is still a hotel facility, often combined with usual hotel rooms under one roof. The range of provided apartments varies from simple low-end apartments (sometimes hardly recognizable from a mere hotel room) to studio apartment (one room which can be used as living area and sleeping area, a little kitchenette and a separate bathroom), to two or three bedroom apartments with separate living area, a kitchen, one or more bathrooms and separate bedroom(s). The kitchen and other facilities are usually basic, serving only as a bonus to the client. Mostly, there is still the hotel restaurant or bar present to cater for the tourist.

Secondly we can speak of corporate housing. These are residential properties which have been adapted to special needs of short to long term business rentals and include services such as cleaning, utility charges, local taxes, telephone and television. The intended target group od such facilities is business client who stays for 30 days or more. They can be located in city centres, but more often than not they are located on the outskirts of the centre of town, with easy access to the main business areas. Both of the Prague serviced apartment types above have in common that the units are all fully furnished and equipped and the guests will enter a home away from home, with cooking facilities and all modern conveniences such as television, DVD, internet access etc. Some are equipped with luxury features such as gourmet kitchens, generous closet space, full-sized washer and dryer, ceramic tiled bathrooms, oversized tubs, and high-tech technologies. Having a kitchen means that the client can opt for eating in instead of out, hence making an instant saving. Other benefits of a serviced apartment in Prague include, added space to both work and play, more privacy and more comfort.

From the above mentioned it is clear that Prague serviced apartments are intended to provide full comfort for long term clients, but can be used on short term basis by people who like their as-home-standard as well. The rates are mostly comparable to those of similar category hotel accommodation. So, why to lose the opportunity of having a second all-inclusive home in Prague?

Prague City Apartments serviced apartments went even further than the concept implies. Our apartments are not on the outskirts but directly in the centre of historical Prague – you just cannot stay closer to the centre. Our apartments are located in private, well secured historical residences where you can truly feel like a local – another step from being just an ordinary mass tourist. Our apartments are exclusively equipped in the most up-to-date and luxurious way, comparable to a four – five star hotel. Despite self serviced, Prague City Apartments offer round-the-clock assistance and a wide range of inclusive services: cleaning, office assistance for business needs, concierge, shopping and much more. All can be adjusted to the special requirements of each client, our team is ready 24/7. To conclude, in comparison to a hotel you sacrifice only the in-the-house restaurant in order to gain much more. It is definitely worth it.

The range of different Prague serviced apartments we offer is very wide. One to three-bedroom apartments are on the list, you will not miss anything you have at home even if you are a big family or group of friends. There are apartments to choose with unique view of the Prague centre from the windows (very romantic, especially in the evening), apartments that offer large private balcony or terrace (great for barbecues or parties), duplex apartments with large living rooms, calm and compact apartments facing inner courtyards (perfect for small children) and much more. There is something for everybody and our staff is eager to help finding just the most appropriate apartment for every client.
Prague has lots to offer for everybody, especially if you are not afraid to get off the beaten path. So do the self-serviced apartments in Prague of which Prague City Apartments facilities are the leading in the town. Try it and prepare to be amazed, you will never want to stay in a hotel any more. Move your travel experience to a new and unexpected level!

On previous pages we were talking about Prague serviced apartment but what about the serviced apartments abroad?