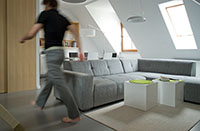 By the term long term apartments rent in Prague we mean the stay longer than 14 days. However is may be the stay up to several years. One questions in advance, why to stay in Prague apartments instead of Prague hotels?
It doesn't matter whether you are using apartment Prague for long term or as a vacation rentals in other words in apartments for short term stay. Like a home away from home, staying in long term apartments Prague offers so many amenities that a basic hotel can't offer without charging the budget conscious tourist a big amount of money. Our long term apartments in Prague provide the chance to stay at locations near the main tourists attractions. No matter what type of style or location business travellers are seeking, whether looking to stay at Residence Karolina or Residence Masna.
Most business travellers find that staying in Prague apartments for long term offers you the ability to see and feel the city in a personal way, and get to know the real people and venues of Prague like Czech native. Choosing this style of vacationing or long term stays, does allow travelers to book residences in advance. Guests can sign up to stay at several different residences near special tourist spots. Most often these apartments for long term rent settings are immersed in the modern way and offer visitors that special home away from home feeling.
Our apartments Prague for long term rent offers several types of apartments, starting with studio (from 38 square meters) up to large three bedroom apartments (up to 220 square meters). They offer the guest the added feature of full living arrangements such as living rooms, dining rooms, kitchens, bedroom suites and balconies. Prices can vary, and like hotels season is a main factor in pricing. But if we are taking into consideration long term stay, you will find the apartment stay is cheaper. Most apartment rentals are more reasonable than staying at a similar quality hotel that would provide comparable amenities. Thus, renting an apartment in Prague for long term rent solves this dilemma. Clients can search for whatever special choice location and pricing that suits their budget and requests. Some apartment rentals can save up to 70 percent off the cost of a similar hotels accommodation.
Usually the booking process can be the same as classic hotel booking process. Nevertheless for apartments Prague for long term rent it is better to contact our front office manager and ask us for special rate. Because when you are planning to stay longer than 14 days in Prague then our suggestion is to ask us with your requirements and budget and we will do our best to satisfy your needs.